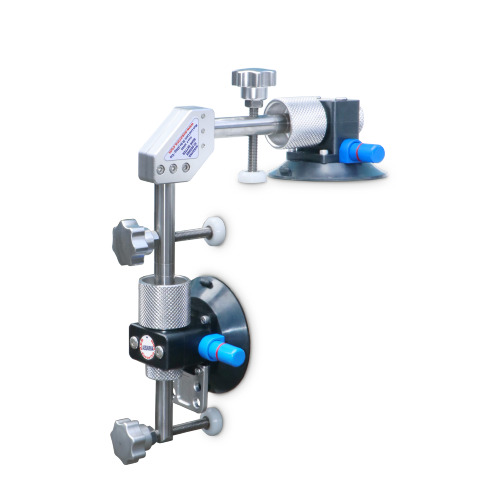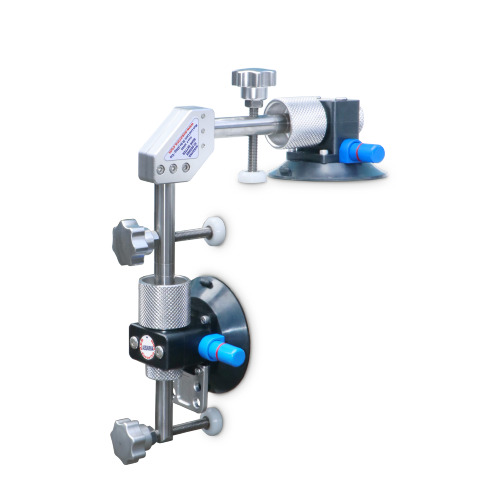 AUSAVINA 90 DEGREE SEAM SETTER
Joining two stone slabs perpendicularly with 90 degree seam setter.
Ausavina 90 Degree Seam Setter is used to position and join two stone slabs perpendicularly by their mitered edges or 900 edges prior to gluing them.
The Seam Setter is an extra support tool that can be added to extend the clamping working range when necessary.
What's outstanding about 90 Degree Seam Setter?
Rubber pads increase firm adhesion and protect stone slabs from damage and scratches.

Consists of four detachable parts including a main frame assembly, suction cups, knurled rollers, and leveling knobs.

By turning the knurled roller, the operator can easily align the gap between the two stone edges perpendicularly.

Leveling knob with a plastic cap attached provides good protection for the finished surface of stone slabs.
Technical specifications of Ausavina 90 Degree Seam Setter
Made of aluminum, the Seam Setter is lightweight and convenient for users with the below technical specifications.
Why choose Ausavina?
Ausavina is proud of being a professional and creative business in the stone and glass industry. We always provide the best products and support with our certification standards, proficiency, and customer service.
FOR PRODUCT VIDEO